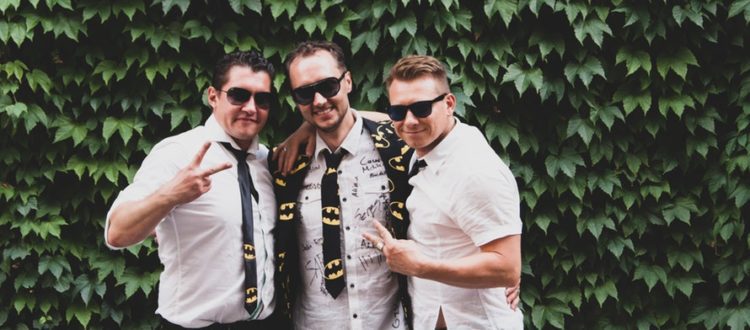 Planning an Unforgettable Bachelor Party – even if you don't remember it all
Your bachelor party (AKA the most epic night of your life) should be legendary. You are celebrating the beginning of a new chapter and the end of another…you better go out in style! Take a night or a weekend with your best buddies to get away from your daily routine and celebrate, man! You are saying goodbye to spontaneous solo adventures, getting wasted all weekend, and, we won't say it, but other bachelorhood perks. So, make sure your bachelor party lets you go wild! You are ready to kiss your old ways goodbye and to embrace a new and even better start to the rest of your life. So make it a night to remember with our planning tips! (Send this article to your Best Man to make sure he doesn't screw it all up.) Remember… what happens on the bachelor party bus – stays on the bachelor party bus.
Invite Everyone …. Literally everyone!
The more the merrier! The obvious guest list is your Best Man and groomsmen, since they are hosting the party, but make sure they have access to invite every bromance you've had throughout your life: high school crew, college roommates, lifelong neighbor friends, work buddies, your fiance's brothers, your rec dodgeball squad, and anyone else who might enhance the party's potential. Male friendship means being able to pick up where you left off and party. You've been through thick and thin with each of these guys and you want to share your special night with everyone. It's also a great opportunity for bonding between the members of your entourage that don't know each other yet or know you from a different time of your life. Get everyone on the same page by raging together at the bachelor party! Your team is the best team.
Make it easy for everyone to party together. If you are inviting a ton of people, make it easy to stick together as you move from place to place. Between parking nightmares, coordinating Ubers, and/or difficult designated driver decisions, we recommend going all in and renting a party bus. You can keep the party going as you are moving from one destination to the next instead of watching your shindig dwindle because your group got lost or couldn't find parking. 1st Class Transportation knows how wild things can get (and their drivers have seen everything) so don't be shy and have your Best Man book them.
Pick a date… for your perfect date with your buddies
So your Big Day is set with her… What about your second biggest day with them? A clear plan is crucial for a successful bachelor party. Aim for a time when everyone is free. Everyone has a busy life, so reach out far in advance to get your party on everyone's calendar. (Example conversation: "Hey buddy! Guess what! I'm getting married! Bachelor Party is June 10, put it in your phone NOW!")  Create a plan that everyone can stick to. You can't tell everyone it'll be a Friday night downtown and then switch to a week-long Vegas trip two weeks before the fact. We know you want to go wild and all, but there has to be order in the chaos. Pick a date and then give your Best Man some ideas that you'd be down to pursue. Maybe a wild and spontaneous road trip is the ticket or maybe an extended day and night of going to a sports event that evolves into a pub crawl. They will choose in the end, but you definitely want to set them in the right direction.
Location, location
What are the trendy Bachelor party locations right now? By recent studies, groomsmen are really big spenders. The average amount of money spent on bachelor parties is $681. Can your group handle that? If not, be careful not to get too carried away with the atmosphere. While you want to have one of the best nights of your life, you need to have a life to return to afterward. One of the worst voted Bachelor party locations in Memphis, Tennessee. The average hotel price is much higher than in other cities and the beer is more expensive. But don't worry, there are better and more popular options. One word for you – Vegas. (It's a cliche for a reason!) It never goes out of style and it is pretty affordable. Plus, it is designed to be Bachelor Party Heaven – hotels are affordable, there is endless gambling, golf, gentlemen clubs, sexy shows…and even more gambling. If Hollywood movies have taught us anything – Vegas is the best place for debauchery! Mexico also offers great options – those beaches are beautiful, you can find cheap hotel rooms, and the beer is limitless. So, jump in your party bus and get going!
Food & Drinks
Let's face it – you will have your entire life to eat healthy veggies. So, at your bachelor party, eat what you want! If that means chips, cheeseburgers, and pizza with extra cheese, why not? You are still young! If that means Surf & Turf with a side of whiskey neat – go for it! It's up to you.  Drinks are a special category for a bachelor party. What is your vice? You could stick to classics – beer, tequila, rum, vodka, or whiskey. Make it a throwback and play beer pong like the glory days of college. If you've aged into loving mixology and craft cocktails, plan a specialty drink that the whole gang enjoys for the night. (No, that's not a girl thing only.) Every detail should be about having one more perfect hang with your best friends as a single guy before your life changes. Sure, you'll find your new normal of quality guy time as a married man – you're not dying – but it's good to enjoy the "Good Ole Days" while you're still in them.
Bachelor Party Bus is Taking Off!
The day is finally here. Your group has assembled and you're ready to take off for the adventure of a lifetime. Pack all your essentials, turn your phone off, and let go. Enjoy every minute of your time with your buddies because when adult responsibilities strike, you can't rewind and redo your bachelor party again. You will never be this young and free again so put the pedal to the metal and make some quality memories. You've chosen who you are going to spend the rest of your life with; now it's time to celebrate with the people who got you this far. Make it legendary.